If you have ever seen or heard about megaldon shark teeth and wanted some for yourself then this trip is for you. This is the 6th trip CIDA has planned to North Carolina and they are very popular. Not sure when the next will be so if you are thinking about it best to get aboard for this one on June 4-11, 2017 and not wait. Remember, it is a resource that will not last forever!
Never dived NC, no worries! Water temperature will be in the mid to high 70's with blue water and visibility from 30′-60′ or more. The boat trips vary from 1 hour to 2.5 hours out to the dive sites. The Meg ledge, Normannia and City of Houston are about 40-45 miles offshore and even in a fast boat it takes a while to get to the sites but it is very much worth the effort. If you are looking for something not so typical and different then this trip is for you.
Cost:
Diver $1480.00
non-divers $750.00
*Price is per person and is based on double occupancy
Deposit and important dates:
Final payments due by April 30, 2017
All deposits and payments are non-refundable-trip insurance is highly recommended! CIDA can help you with this.
Channel Islands Dive Adventures trip applications will be required after booking your spot
No passport required
What is included:
Accommodations at the Towne Place Suites by Marriott in Wilmington, NC (all rooms have a full kitchen)
5 days diving with Aquatic Safaris on the Aquatic Safaris I (boat trips only)
Group get together before and after trip
What is not included:
Rental car
Airfare
Trip insurance
All meals & drinks
All tanks, weights & Nitrox
Itinerary:
For this trip most everyone will take a nonstop red-eye flight late Saturday, June 3rd arriving early Sunday in Raleigh/Durham and then nonstop back if you can get it. You can fly into Wilmington but sometimes it isn't worth the extra cost. The drive from Raleigh is easy and about 2 hours to the hotel. When arriving to Wilmington you can check into the hotel get food supplies and check in at the dive shop which is about 5 minutes from the hotel. We will be diving Monday to Friday with Saturday a free day to decompress and see the area. Sunday morning we will checkout and then it is time to get to the airport and fly home, afterwards you will show and tell all your friends about the treasures you brought home!
Hotel Info:
Currently there are 12 rooms reserved at the Towne Place Suites by Marriott in Wilmington, NC which is less than 5 miles from the dive shop and Bridge Tender Marina where the boat is docked. The hotel has a complimentary continental breakfast, evening reception, wired/wireless internet, pool, BBQ's, fitness center, convenience store and more. Each suite is non-smoking and features fully equipped kitchens with stove and microwave, separate living and dining areas, in room entertainment includes premium cable and movie channels, an iPod dock, and flat screen TV's.
Diving:
CIDA currently has the Aquatic Safaris I dive boat reserved for the whole week (5 days) through the dive shop- Aquatic Safaris in Wilmington, NC. The Aquatic Safaris I is a custom built 48′ Island Hopper dive boat (not a converted fishing vessel) that has a wide beam, making it a stable dive platform. Twin diesels with 1080HP ensures a quick comfortable ride to and from the dive site. She cruises
fully loaded at 23-25 knots! Custom fins-optional ladders with extra wide steps make exiting from the water easier than ever and she works well for these trips.
When diving in N.C. the scuba tanks with air or Nitrox for each dive and weights are NOT included in the price of a trip and neither is food and drinks, except for water. The boats do have ice chests on board for you to store your lunch and drinks. Click here to see the rental prices of the tanks and weights.
Planned dive itinerary: all trips are 2 dives and are for the most part a full day. Also, a line reel and safety sausage are required for the dives.
*See videos from previous trips
Megladon Shark teeth diving: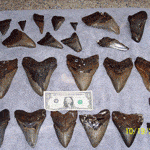 Carcharodon Megladon was a giant shark that lived between 2 million and 16 million years ago. Little is known for sure about these giant predators because all that remains of their existence are fossilized teeth. These giant shark teeth range in size from 3 inches long to 7 inches long. They are massive things that can be bigger than a man's hand. To put this in perspective a large great white shark measures about 20 feet long and weighs a little over 2 tons. A tooth from a shark like this is about 1.5 inches long.
Diving for shark teeth
There are several spots way out that seems to be very good for finding shark teeth and they are along the Meg ledge or Fossil ledge. It
seems the best places are about 100′ deep so Nitrox is a must. A reel is required to tie off to the anchor line and then just head out a ways (don't really need to go more than 40′-50′ away)and start digging . Once you decide on a spot you just start to lightly fan the sand with your hand, no tools are needed and the sand is like beach sand. While you do this you have to swat the little fish away that come in to eat what is in the stirred up sand and just pick the teeth and bone out of the area you fan. You do this until you get to the hard bottom (about 12″-18″inches) and then you started to make your hole wider or move on to a new spot. Digging for the shark teeth is probably the BEST part of the trip especially when you are finding things you get to take home with you.
*Here is a video on digging for the teeth
Who is this dive for?
This trip is best suited for Advanced divers and above that have experience in conditions including; current, swell and deep water. The wrecks visited are unique and interesting and inherently have more hazards then normal dives. Most importantly, good buoyancy control is needed and surface signal tubes & reels with at least 100′ line are required.
Land activities:
Wilmington is a large spread out area with lots of things going on. There are plenty of good restaurants, shops, stores and tourist attractions or things to see and do. If we have free time (like a canceled dive) then it shouldn't take long to find something else to do. They have one of the 3 Maritime museums close by in Southport, The USS North Carolina battleship, local Cape Fear history museum, gardens and much more. The hotel will also have lots of suggestions.
Transportation:
Whether you fly into Raleigh/Durham or Wilmington you will need a rental car for this trip and usually people will share with others to reduce the cost. As the trip gets closer Ken will help coordinate this with everyone. Tip-If you are a member of Costco you can rent cars at a reasonable price through their travel program.
Weather:
It is very possible we will not be able to dive every day. Diving N.C. for the wrecks and shark teeth is very exciting but the wind blows when it decides too and when it gets bad the boats cancel the trips. This will be our 6th trip planned and so far we have had to cancel 2 entire trips 2 days before we were scheduled to leave. Now, we are going early June so the chance of storms is much less and if we cancel then depending on what happens there will be a charge from both the hotel and Aquatic Safaris plus any cancellation fees the airline will charge you. This is why trip insurance is a MUST.
Questions:
Please contact Ken by phone (805) 469-7288 or email at ken@channelislandsdiveadventures.com if you have any questions.