Diving the oil rigs can be an awesome experience. Whether you want to take pictures, get scallops or just sightseeing there is just something mystifying about diving a man-made object out in the open ocean! Join Channel Islands Dive Adventures aboard the Asante for a single day trip to dive the southern oil rigs (Eureka, Elley & Ellen) on Sunday, Jan. 15, 2017.
The plan is to board at 6:00 am Sunday, Jan. 15th and depart at 7:00 am with us getting back about 3:00 pm.
Diving the oil rigs Eureka, Elley and Ellen can be an awesome experience.  Eureka (about 700' deep) is the furthest out of the 3 and in most divers opinion it is the best to dive. Then you have Elley and Ellen (around 260' deep) which are not far from Eureka and are about 8 miles out of Long Beach. Elley and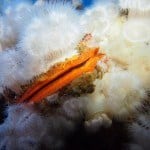 Ellen are connected together by a bridge making them more into an oil rig complex. What makes an oil rig so much fun to dive is the amount of life that has called the legs and cross braces home plus you then have the schooling fish and sea lions swimming around the structure. The rigs legs and cross braces are covered with things like nudibranches, anemones ( including metridiums), lots of fish like rockfish, Cabazon and sheephead, brittle stars and more. The rigs are photographer's dreams come true. The visibility can vary depending on conditions and depth from 20'-100'. Generally the best vis is 60' or deeper.
Diving the Oil Rigs-Video
This trip is best suited for Advanced divers and above that have experience in cold water conditions including; current, swell, possible limited visibility and deep water. The oil rigs visited are unique and interesting and inherently have more hazards and may not necessarily have the best dive conditions. Most importantly, good buoyancy control is needed and surface signal tubes are always recommended.
Trip Details
Where: Oil Rigs
Depart from: Ports of Call, San Pedro
When: Sunday, Jan. 15, 2017
Time: boarding at 6:00 am, departing at 7:00 am and back about 3:00 pm
Cost: $145.00 includes, 3 dives, lunch, snacks & air
Pay Online–click here to pay
For those that may not know the Asante is the old Sea Bass but with all the new improvements it is really totally a new boat. The owners, Gary Jackson and Kevin Bell have repowered it with new efficient engines and transmissions, new generator and compressor not to mention a whole bunch of other things that you will notice because they will make your trip on the Asante that much better.
They specialize in trips to the local wrecks, reefs, oil rigs and Catalina/Farnsworth. They offer limited loads to insure you have all the room you need for you and your toys such as rebreathers, doubles and scooters.  The Asante is perfect for smaller groups from open water to wreck and technical diving.  Key points to remember is that they are fast.  You will have just as much time at the dive sites and less time getting there and with a smaller group you are sure to have an EXCELLENT time on the Asnate.
All trips are scheduled for 3 dives and include continental breakfast, lunch, snacks, soft drinks and air fills.
At Asante Charters the customer always comes first, and we constantly strive to exceed your expectations!  With our wide range of products and services, you're sure to find exactly what you've been looking for.
The Asante is a 40 foot Coast Guard Certified vessel, powered by twin diesels engines.  With a cruising speed of 18-20 knots, they can get you to the dive site quickly and have you home in time for dinner! The Asante is certified for 30 people on board, however they limit the loads for dive charters to 12 divers.  They proudly offer High Pressure fills (3200) of both air and Nitrox. Nitrox fills are available for an additional charge of $15.00 per fill.
After your dive you will find a fresh water shower head for rinsing down your gear as well as yourself.  The deck is covered to protect you from the sun and there is plenty of seating with indoor seating for 6 inside if needed. For the photographers they have a fair sized table for camera equip including a rinse bucket.  Hunters are also welcome and typically they will stack guns up against the bulkhead. There isn't a bait well and usually game is stored in individual game bags.
The Asante is located in San Pedro, Ports O'Call at Berth 75 Nagoya Way, San Pedro, CA 90731. It is easy to find with free, close, convenient parking.
To sign up and pay for the trip or if you have any questions, please contact Ken at
info@channelislandsdiveadventures.com or call (805) 469-7288