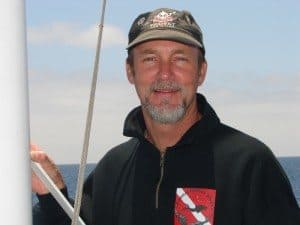 Channel Islands Dive Adventures LLC is owned and operated by Ken Kollwitz. Ken was certified at 16, had a 10-year surface interval and has been diving the last 25+ years with 1900 plus dives, mainly around the Ventura-Monterey-Channel Islands area. He considers himself a true cold water diver with his favorite diving around Vancouver Island, British Columbia, Canada. Other places Ken really enjoys to dive are Jade Cove, Port San Luis / Avila / Morro Bay area, Monastery beach and San Clemente Island. Ken has a sense of adventure and enjoys all types of diving such as; hunting, wrecks, photography, drift, deep, tech, deco and more. Ken is always looking for new exciting out of the way dive sites and hard to get too dive sites.
Ken is an insured NAUI Scuba Instructor who does no teaching but loves to try and instill good diving habits on CIDA trips. He is certified in limited wreck penetration (TDI); advanced nitrox/decompression procedures (IANTD), open water buddy for disabled divers (HSA) and he is a DAN diving emergency specialist provider.
Ken has been a member of the Channel Islands Divers dive club for many years where he has served as past President and Dive Coordinator. He also has been a member and helped out with various other local dive clubs and organizations such as the Channel Islands Underwater Photographic Society and the Channel Islands Council of Divers. He also helped out the Ventura College advanced NAUI dive program for the about 5 years. Ken formerly worked for the Sunfish dive boat as a Divemaster and Operations Manager.
Besides diving, Ken enjoys planning, organizing and leading dive trips locally and abroad and he really enjoys meeting new divers and other like-minded divers. Ken believes safety is #1 and having fun is #2.
Basic Scuba Diver, NASDS, 1977
Openwater 1, NAUI, 1990
Rescue Techniques, NAUI, 1991
Masterdiver, NAUI, 1991
Ventura College Safety Diver, 1993
Divemaster, NAUI, 1993
Nitrox Diver, IANTD, 1995
Open Water Dive Buddy, HAS, 2000
Wreck Diver Limited Penetration, TDI, 2004
Advanced Nitrox/ Decompression Procedures, IANTD, 2006
Diving Emergency Specialist, DAN, 2007
Visual Inspection Procedures, TDI, 2008
Mixed Gas Blender/02 Technician, NAUI, 2008
Channel Islands Dive Adventures LLC ALWAYS has a dive host/tour guide aboard all our trips and when Ken Kollwitz is not there you will find the smiling faces of BJ Rogers & her husband Steve Roquemore.
BJ is the tour host and can assist you with check in, completing required waivers, boat layout, bunk assignments, where to set up and stow your dive gear and whatever else is needed to make your dive experience with CIDA the best that it can be. While Steve is the "Mr. fix it" or the "spare parts/equipment" guy; he is available to assist you with equipment needs and to assist in any way to make your dive experience with CIDA the best that it can be.
Steve has been diving since 1968 and has explored the ocean in many capacities from doing security swims on Nuclear Submarines, retrieving lost anchors or fishing gear, spearfishing, underwater photography, training disabled veterans and leading tours for newer divers.
BJ became hooked on scuba diving in 1986 while on vacation in Hawaii where she first experienced breathing underwater on a party boat that offered a scuba diving resort course. She took to the water like a fish and received her open water certification later that year and has been diving ever since. BJ is a very active diver and enjoys taking underwater photos to share with her friends and family.