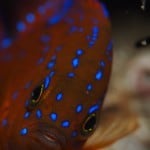 The West end of Catalina and the backside of Catalina has some excellent dive sites plus with all the kelp growing at them you just can't go wrong and that is why Channel Islands Dive Adventures has the Magician chartered for a single day trip on Sunday, Feb. 11, 2018 to explore some of the cool west end dive sites . The plan is to board at 6:00 am Sunday or after 8:00 pm Saturday and depart at 7:00 am with us getting back about 5:30 pm.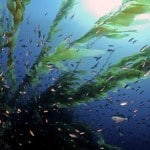 The west end of Catalina has some excellent diving with dive sites such as Cape Cortez, Eagles Nest, Wild West and more. It is possible we might also visit some sites along the front west side of Catalina such as Bird Rock, Ship Rock, Parsons Landing.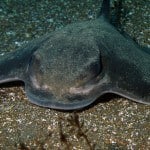 Lots of Catalina has the kelp coming back and the west end dive sites seem to be doing the best plus with the kelp forest you typically have the sea lions, bat rays, sheephead, Garibaldi and more to see.
For this trip we will have Brent Durand aboard for anyone who would like FREE photo & video help along with tips and to answer any questions you might have. 
Brent Durand is an underwater photographer with work published in print worldwide, in advertising and across the web in a variety of outdoor industries. He is a regular contributor to several major dive magazines and has a reputation for writing insightful yet simple camera gear reviews. He speaks regularly on photography technique, dive adventures and trends in the photo industry, and has a popular monthly newsletter full of photo tips and tricks. Brent has led underwater photo workshops with hundreds of guests around the world and is the founder of We All Roam, a travel company dedicated to connecting outdoor lovers with epic guided adventure tours. Brent's favorite dive is any California kelp forest in good vis!  You can view his photography online at www.BrentDurand.com, on Instagram and on Facebook.
This trip is best suited for OW divers and above and a great choice for divers wanting to sharpen their diving skills for more advanced trips. The dive sites visited have something for everyone. Dive sites are to be determined by "BEST CONDITIONS" based on water visibility, tides, current, surge, swell and wind. Good buoyancy control and surface signal tubes are always recommended
Trip Details
Where: West end of Catalina
Depart from: 22nd Street Landing, San Pedro
When: Sunday, Feb. 11, 2018
Time: Board at 6:00 am Sunday or after 8:00 pm Saturday and depart at 7:00 am with us getting back about 5:30 pm.
Cost: $125.00 includes, 3 dives, food, drinks & air
Pay Online–click here to pay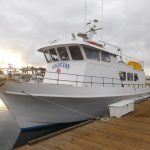 The Magician had been owned and operated by Captain Jerry Lewis for many years creating a good following for the boat and now with the new owner/operator Captain Carl Mayhugh it only seems to get better. Captain Carl is not new to the SoCal area nor to dive boats plus he knows the weather patterns and how to make customers happy.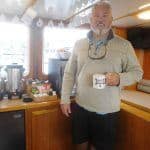 Captain Carl Mayhugh began working in the dive industry as Second Captain of the Horizon in San Diego until he took the opportunity to take over as Captain and Operations Manager at Lois Ann Dive Charters, and remained there until he bought his own dive boat. Carl holds a USCG 100GT Master License.
He has been a member of the Board of Directors for the San Diego Oceans Foundation and was in charge of the Wreck Alley Mooring Project for 3 years.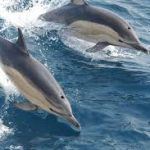 Carl worked for NOAA as a field biologist and was a Marine Mammal Observer for the NOAA ORCAWALE Marine Mammal Survey plus he had the opportunity to teach college level marine biology and marine field ecology at Prescott College's research station in Bahia Kino, Mexico, on the Sea of Cortez.
He has worked as a Whale Watching Captain in Dana Point and the Long Beach area. He has a degree in Marine Conservation Biology, a Graduate Certificate in Coastal Studies, and a Certificate in Ornithology. He is an AAUS Scientific Diver, a PADI Master Scuba Diver Trainer, and a member of the NOAA Large Whale Disentanglement Team for OC/LA.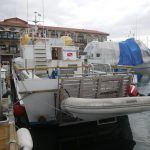 The Magician is a 65' USCG rated vessel that is certified to carry up to 44 passengers or 28 divers and has bunks to accommodate up to 22 passengers. CIDA will have a maximum of 24 guests for our single day trips. The have a full galley with them serving meals, snacks and drinks on all trips including their whale watching trips. Even though CIDA will not be doing any multi-day trips on the Magician they do have a nautical range of 1,000+ miles with them cruising at 10 knots.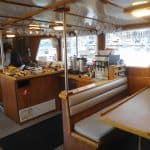 They have new engines (Tier III), an air-conditioned bunk room, hot shower, clean restrooms, dedicated camera table, freshwater rinse tank and all USCG safety equipment including AED and 02. For those nitrox divers they have a Nuvair membrane system with fills costing $10.00 or $7.50 with fill card. Their specialty is Catalina, Oil Rigs, Farnsworth and of course whale watching and marine mammal viewing.
Channel Islands Dive Adventures has just added the Magician to our 2017 schedule using it for trips to the Oil Rigs & Farnsworth which we think it will work exceptionally well for. For trips on the Magician you will need to bring all your own gear and 1 tank. If you need gear rentals you can arrange in advanced with through your local dive shop.
The Magician is located at the 22nd Street landing where several other dive boats are docked and is the first boat you will see to the left side of the dock as you go down the main ramp. Their address is 141 W 22nd Street, San Pedro, CA
*There is no spearfishing allowed on the Magician
To sign up and pay for the trip or if you have any questions, please contact Ken at
info@channelislandsdiveadventures.com or call (805) 469-7288