Port Hardy-British Columbia, Canada-God's Pocket resort
June 20-26, 2019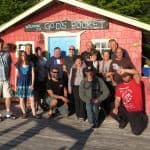 Scuba Diving magazine ranked British Columbia's waters as offering the best diving in North America and diving in BC was also named to National Geographic's 2014 Ultimate Adventure Bucket List. Also, The Jacques Cousteau Society rated British Columbia second only to the Red Sea for clarity and diversity of marine life. Dive sites in BC include famous walls, reefs, current-swept passages and shipwrecks and we can explore all these and more by staying at the God's Pocket Resort on Hurst Island.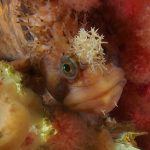 The variety, abundance and colors of BC's ocean life will amaze any diver: giant Pacific octopus, wolf eels, schools of rockfish, colorful nudibranchs and anemones, soft coral and giant sponge formations are common sights. The diving may be a bit more challenging and cold but one trip to dive British Columbia will NEVER be enough!
Read the trip report from our AWESOME August 2017 group trip!
Cost
$2450.00-Diver (Price may change-this is from 2017 and no new price for 2019 trips have been set)
Deposit and important dates
What is included?
"Hurst Isle" boat ride to and from God's Pocket Resort
Meals, Baked Goods, and hot and cold drinks. (they do not provide sodas, alcohol or "junk" food. You can purchase these in Port Hardy and you are welcome to bring your own.)
7 days/6 nights accommodation and housekeeping service
All linens and towels
Up to 3 boat dives per diving day
Dives at the dock
Air fills
Steel 85 tanks
Weights and Belts
Group pre party
Hosted tour
What is not include?
Airfare
Rental cars
Ferry fees
Extra hotel nights
Trip insurance
Tips and gratuities
Nitrox – $10.50 CDN plus taxes per fill (Subject to change)
The Itinerary
Due to the logistics of getting to Port Hardy more then likely the group will be traveling separately till we meet up at Port Hardy at 4:00 pm Thursday, June 20th for the boat ride to the resort. There are quite a number of ways to get to Port Hardy from various cities on Vancouver Island or the city of Vancouver on the mainland and all require some advance planning, rental cars, extra hotel night stays, possible ferry rides and rental cars. Please call Ken Kollwitz at 805 469-7288 and he will be happy to discuss all the options to see what might work better for you.
One thing for sure is you need to leave yourself plenty of time for the ride to Port Hardy so you don't miss the boat leaving at 4:00 pm Thursday. The ride is beautiful with some nice towns, lots of forest and sights to see along the way easily making the journey an all day event. For the week between June 20th -26th we will be at the resort on Hurst Isle enjoying a nice leisurely time. If an emergency arises and you need to leave early there are a couple options to get back to Port Hardy but all are expensive.  On Wednesday, June 26th we will be brought back to Port Hardy at 8:00 am and from there you can make your way back home.
Here is a sample itinerary of the week-
Day 1) Pick up in Port Hardy at 4 pm. Depart for God's Pocket at 4:00 – 4:30 pm. Arrive God's Pocket around 5:00-5:30 pm and settle in. Orientation for the week set up gear and relax with supper.
Day 2) 3 boat dives. Hiking / kayaking / napping for surface interval. Night Dive off Dock
Day 3) 3 boat dives. Hiking / kayaking / napping for surface interval. Night Dive off Dock
Day 4) 3 boat dives. Hiking / kayaking / napping for surface interval. Night Dive off Dock
Day 5) 3 boat dives. Use the afternoon to rinse and hang gear to dry. After supper pack up gear and relax for the evening.
Day 6) Load boat at 7:15 am. Continental breakfast at 7:30 am. Depart God's Pocket at 8:00 am and get to Port Hardy before 9:00 am. On the road by 9:30 am at the latest.
God's Pocket Resort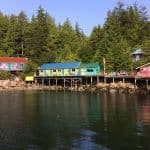 God's Pocket Resort is the only resident of beautiful Hurst Island, British Columbia, on the east (inside) of Vancouver Island, BC, Canada. Nestled in an enchanting cove off Christie Passage, 12 miles north of Port Hardy, we offer a tranquil setting in which to relax after a day of the best cold water scuba diving in the world. God's Pocket Resort, operating for over 20 years, is a land-based diving location for cold water divers of all levels. Accessible only by boat, it is a secluded wilderness spot surrounded by forested islands and the waterways of the Queen Charlotte Strait. A visit to God's Pocket provides not only spectacular cold water diving, but also an opportunity for kayaking, hiking, shore walks, wildlife viewing, including  whale watching.
The resort includes 2 main cabin buildings, each having 4 side-by-side rooms plus there are 2 separate special cabins. Rooms are based on double occupancy and have a bathroom with toilet, sink, and shower. Daily housekeeping is provided. The resort also has a larger common room – called the Clubhouse – for reading, hanging out, or watching movies and having our weeks end slide show.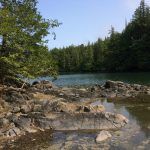 Three delicious meals a day are provided, all made from scratch, served family style in the dining room. Baked goods and hot drinks are available any time of day if you need a little something. They make every effort to accommodate food preferences and allergies. If you are vegetarian alternate items will be prepared on nights that they serve meat. There is also a 'boat box' that goes on every dive, and holds hot drinks (coffee, tea, hot chocolate) and homemade snacks for hungry or thirsty divers. PLEASE NOTE: They do not provide sodas, alcohol or 'junk' food. These can be purchased in Port Hardy and you are welcome to bring your own.
The Queen Charlotte Straights are home to a variety of marine mammals. Year round, you can see Orcas, Minke Whales, Dalls Porpoise, Harbour Porpoise, Sea Otters, Steller Sea Lions and Harbour Seals. During the summer months, Humpback Whales make the area waters their home and they can often be seen  feeding right in front of the bay!They also have California Sea Lions and Pacific White-Sided Dolphins. Hurst Island also provides excellent bird watching. Eagles often perch at the mouth of the bay. Cormorants, Oyster Catchers, Harlequin Ducks, Rhinoceros Auklets, many different Seagulls can be spoted from the deck. For the hikers you can explore God's Pocket Provincial Park by foot! Follow the flagged routes or go off the beaten path. From scenic mountain tops to beautiful secluded bays, Hurst Island has a variety of terrain for those looking to go for an evening walk or a two hour journey.
The Diving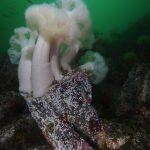 The diving in the Port Hardy area can be more challenging but very much worth the effort. The diving they do there is based on quality not quantity. If tides and weather allow 3 excellent choices in the day, they will do 3 boat dives. If conditions are questionable, they will limit you to two excellent choices. The resort is about 5 minutes from Browning Pass and the world famous Browning Wall. Other dive sites they frequent (weather and currents depending) include: Barry Islet, Dillon Rock, Nakwakto Rapids, Hunt Rock, 7 Tree Island, Snowfall and various sites in Bates Pass, to name a few. They regularly scout new sites so the choice of dive spots is extensive, which means that no matter what the wind and tides are doing there will always be a site that is suitable for the conditions.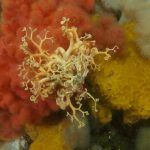 Dock dives are popular at night if the tides permit, as well as in between dives. In front of the resort, the water is about 30 feet deep.  Divers in the bay have reported seeing Nudibranchs, Puget Sound King Crabs, young rockfish, anemones, shrimp, and all sorts of other underwater life. Recently, several Giant Pacific Octopus have been making the bay their home and have been seen hunting among the pilings as we walk up the ramps from the boat. It's SO great to get in the water in the evening and watch the creatures feeding.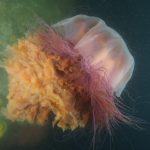 With all the variety you can never be bored and soon will think to yourself "why haven't I done this sooner". For photographers you will have a hard time deciding wide angle or macro. Most dives will be live boat drifts along the walls. The 40′ aluminum dive boat is currently licensed for 12 and you can either get back on using the hydraulic lift or by climbing a ladder.
More info here on diving British Columbia.
Who is this trip for?
This trip is best suited for good intermediate to advanced divers or above with good buoyancy control and a good level of fitness. Most all dives will be multi-level with the dive sites to be determined by "BEST CONDITIONS" based on the weather while we are there. Surface signal tubes are always recommended and dive accident insurance and trip insurance is highly recommend!
Trip Insurance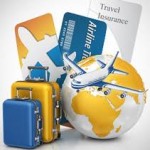 Channel Islands Dive Adventures urges you to consider purchasing travel insurance for your trip. In order to maintain our reasonable rate & high level of service, we do not automatically insure your trip against the adverse effects of weather or other factors that are beyond our control. Your vacation represents a very large investment, and unforeseen circumstances such as injury or sickness, airline issues, and family emergencies can easily affect your ability to travel. Get all the info needed to sign-up for DAN or DiveAssure here!
Questions-Please contact Ken at (805) 469-7288 or email at info@channelislandsdiveadventures.com