If you like the Monterey area or maybe never been there, then you NEED to join Channel Islands Dive Adventures on our long weekend trip we have planned from Thursday to Monday, Oct. 3-7, 2019.
The Monterey area has so much to offer! We did this trip in late Sept. 2018 and had a BLAST. Ken used to help out with the Ventura College NAUI program where we would do long weekends in Monterey training & diving and he used to plan long weekends camping
for the Channel Islands Dive club at Big Sur with diving around Monterey . The Monterey area is an awesome place to spend time at and with so much to see you just can't have a bad weekend there!
Whether you are diving or not there is something for everyone such as whale watching, shore diving, visiting the Monterey Aquarium, Point Lobos (hiking & diving), boat diving, bike riding, hiking, sightseeing and the list goes on. Actually with 4 days all you can do is touch on some of the many things to do.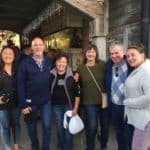 So what is our plan? Good question and that will all depend on who decides to join us. CIDA has a number of friends that live in the Monterey area or close and more then likely quite a few will be joining us from the SoCal area which will require some type of lodging.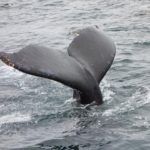 Things Ken and his wife Tessie will plan to do again will be whale watching with Monterey Bay Whale Watch on Friday morning. They have a 4-5 hour trip that is $49.00, departs at 9 am and back by 1-2 pm. In 2018 we had 44 humpback sightings and 100 Risso Dolphins. More then likely we will BBQ and dive again at Lovers Point and plan to visit Point Lobos for some hiking and do some shore diving around other areas of Monterey with the sites being decided by weather and again who wants to join us. If anyone decides on diving Point Lobos reservations are required in advance.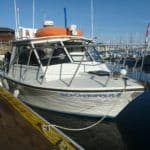 Ken has chartered the Beachhopper ll for 2 dives on the morning of Saturday, Oct. 5th. The Beachhopper ll is 32′ long and built by divers for divers. She is spacious with easy entry and exit through the back, has a head, warm water shower, soft drinks, bottled water and hot coffee. Bring your own snacks if needed. She has a crew of 3 and can take up to 12 divers, the cost for our trip will be $80.00 for a 2 tank dive and this does not include tanks or any gear. If you need any rentals there are lots of shops close by. We will board at 8:00 am, depart at 8:30 and be back when our 2 awesome dives are done.
Important-if you want to be one of the 12 on this FUN boat trip contact Ken to pay for your spot!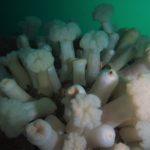 Last but not least we out of towner's will need to stay someplace and September is high season in Monterey so make any reservations needed ASAP or you will not have many choices. There are lots of choices and for diver friendly hotels you have the Lone Oak Lodge and the Monterey Bay Travelodge or if you are into hostels there is the Monterey Hostel which I hear is great for the price. If you like camping then Veteran's Memorial Park which is within 1-2 miles from town would be an excellent choice but you can not reserve camp sites.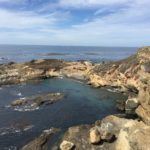 They are only available only on a first come, first served basis. Don't forget Airbnb which has lots of choices for the Monterey area and in fact Ken and his wife are thinking of renting a whole house through Airbnb with 2-3 bedrooms. If this sounds good to you and you might like to share with us let Ken know ASAP. We can split the cost and have lots more space then a hotel room plus we will have a kitchen.
Of course all this sounds AWESOME so what do you need to do? Let Ken know several things:
Do you plan to join us
What lodging are you planning on
What would you like to do while in Monterey
Would you like to go on the Beachhopper
Give Ken your contact info
Any questions, please contact
Ken at info@channelislandsdiveadventures.com or call (805) 469-7288