Camping at Morro Bay State Park is so much FUN and one EXCELLENT problem you will have while camping there is there are just so many things to do in the area it can be hard to pick what to do. This is why you will want to return over and over!  No matter what your plans are please join Channel Islands Dive Adventures for a fun filled long weekend camping on Fri./Mon., July 19-22, 2019.
The Campground itself is beautiful and right across from a small harbor and estuary where kayaking and bird watching are #1. Next to that is the Natural History Museum and a public golf course. There is a nice hike from the campground to Black Hill affording a 360 degree view of the area and many other
hikes easily accessible in the area. Montana De Ore to the south is about 30 minutes away and has some good diving or snorkeling when conditions permit. Also, Montana De Ore has lots of hiking, cool bluffs and small coves to do some beach combing for sea glass and other cool stuff and further to the south is Pismo and Avila Beaches.
The main town of Morro Bay is about 5 minutes from the campground with lots of cool shops and restaurants and plenty of stores to buy supplies. A little further to the north is Cayucos, Cambria, Hearst Castle and the elephant seals at Piedra Blanca's.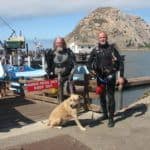 For those wishing to dive one of my favorite things to do in Morro Bay after getting permission form the harbor master is to d a drift dive into the harbor along the jetty next to Morro Rock and right after move to the Coast Guard T-Pier doing a shallow dive under the pier. There are also a few other spots to dive like Fairbanks Pt. Target Rock.
We will not have a group camp area so everyone is on their own and getting a campsite during the summer months can be a problem so don't wait too long! You can make your reservation 6 months in advance of the day you plan to travel and the sooner the better so trying in early January would be the best.
Ken with CIDA will try to get some reminders out in advance for camping reservations through the CIDA newsletter and facebook page and group. If you do get a campsite please let Ken know so he knows who to expect.
Campsites at Morro Bay cost $45.00 per night and you are allowed 2 vehicles and up to 8 people. The campground is nice with lots of trees, bathrooms, token operated showers and a dump station. See this for Reserve California camping info.
So what is the plan for the weekend? That all depends on the weather and who shows up. There is so much to do and sometimes doing nothing is the best so we will just have to see. Ken does plan to have a potluck on Saturday night so bring something to share if you would like to participate.
If you have any questions, please contact
Ken at info@channelislandsdiveadventures.com or call (805) 469-7288