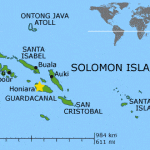 Solomon Islands consists of 922 islands, 350 of these are uninhabited making it an exotic wonderland of varied landscapes, rich in cultural and biological diversity. Untouched by 20th century development and tourism, it is an island nation located in the southwest Pacific, 1,500 miles west of Fiji and 1,200 miles northeast of Australia.
During World War II the Solomon's became a key turning point in the desperate struggle by the Allied forces to repel the Japanese advance in the South Pacific. Most of the heavy fighting was concentrated in the Guadalcanal area, with one of the fiercest encounters in naval history taking place on 13th November 1942. The "Battle of Guadalcanal" extracted heavy losses on both sides.
Hundreds of ships and aircraft litter the ocean floor, providing divers with a wide range of wrecks for scuba divers to explore. These machines and war relics now form spectacular, artificial reefs which attract masses of fish and an incredible variety of coral life.
Come join Channel Islands Dive Adventures & UTD Watersports for a trip of a life time aboard one of the best and most well-known liveaboards in the Solomon Islands-The MV Bilikiki hosted by Ken Kollwitz!
Cost
$5750.00-deluxe cabin, double or twin share
Deposit and important dates
What is included?
Hotel or airport transfers in Honiara
Stateroom accommodations
Meals, snacks and non-alcoholic drinks
Weights and belt, tanks and air fills
Unlimited diving
Evening slide shows
$25.00 per person per night tax
Group pre party
Hosted tour
What is not include?
Airfare and transportation to Honiara
Alcoholic drinks
Nitrox-$180.00
Trip insurance
Tips and gratuities
The Itinerary
All of their departures are designed to work with the incoming and outgoing flights so in general overnights are not required. When we arrive at the airport there will be someone waiting to transfer us to the Bilikiki with the boarding time on the first day around 4 – 5 PM. If we get in early we will probably need to get a hotel room to hang out and rest in till it is time to be transferred to the ship. Once on the ship it will be time to start enjoying our vacation and get ready for our 10 day adventure diving and cruising around the Solomon Islands. There are no set itineraries for the diving because there are so many dive sites in each area. Rest assured they will do their upmost best to go where the best diving is at any given time, and also cater to the type of diving that our group prefers.
A village visit is also scheduled atleast once on every trip. You'll have a chance to meet the Islanders, see and purchase carvings and baskets and visit their schools and churches. If they are anchored off a village the Islanders will come out in their canoes to market produce and carvings, or just watch what's going on and if you like fishing, the crew will gladly take you out for some early morning or evening hand-lining for tuna and other pelagics. Disembarkation on the last day is around 8 AM and on the last day we probably will have a few hours to look around town before we transfer back to the airport.
The MV Bilikiki
In 1989 MV Bilikiki sailed as the first full service luxury live aboard dive vessel in the Solomon Islands. She was also one of the first in the world to offer private showers and toilets in every cabin. MV Bilikiki has 10 deluxe cabins, all with a double bed below and single above. Her large size of 125' x 24'  was built for South Pacific seas and is the main reason why guests from around the world still say that "the Bilikiki"
is one of the most spacious and comfortable vessels that they have travelled on. Diving is done from 1 of the 2 skiffs and you are never far from the main ship. The crew is always there to help. Power throughout the ship is 240 V 50 cycle, using Australia style 3-prong outlets. There are also plenty of American style 110 V 60 cycle outlets for charging cameras, strobes, divelights, etc. These outlets are only for charging purposes so if you intend to use hairdryers, shavers, etc. you will need to bring adapters.
They offer unlimited diving, with the dive day built around five daily dives. If your computer and past dive activities permit it they can schedule additional dives. They know you've come to dive and will try not to hinder you with a lot of restrictions, so within the bounds of common sense and safe dive practices, divers are permitted to set their own dive profiles. Also, there dive professionals are always available for those that want or need the guidance.
The Diving
Solomon Islands consists of hundreds of islands and groups of islands. There are 3 main island groups that they dive: Florida Islands, Russell Islands, and Marovo Lagoon in the New Georgia Group. Each of these island groups consists of dozens of islands and a vast array of dive sites. They also dive an isolated island known as Mary Island. On their 7 night trips they generally dive Florida Islands, Russell Islands and Mary Island, while the 10 night trips may or may not go to Marovo depending on conditions.
The Solomon Island waters are very nutrient rich, and they support the entire food chain from microscopic creatures to major predators. You'll have a good opportunity to see a variety of sharks, mantas, dolphins, and turtles, and barracuda in uncountable numbers. In shallower waters you'll see almost every tropical imaginable, and some that will stretch your imagination. Cuttlefish, octopus, schooling lionfish, and amazing numbers and varieties of anemone fish, not to mention amazing varieties of anemones. You'll see more varieties of coral than almost anywhere, and all this in 82 – 85ºF waters. Underwater terrain varies from walls to reefs, to passages. You'll visit caverns with shafts of sunlight illuminating the interior. You'll swim 200 feet into a split in an island, and when you surface you'll be under a jungle canopy
listening to the parrots and cockatoos. You'll enter a tunnel on a pinnacle and exit minutes later in the deep blue ocean. In the shallows around almost every island you'll find channels, cracks and fissures stocked with an unbelievable variety of shells, fish, plants and corals that you could explore for hours.
The Solomon Islands was the site of major World War II naval battles and many ships were sunk and with that there are quite a few wrecks but the problem is that many are far too deep for us to dive. There are
some that we can dive and depending on the group they will do their best to accommodate us. Those we can dive include The Ann in the Russell Islands (a more recent wreck, not W.W.II) and Japanese transports in Marovo Lagoon. Divers still find ample evidence of the war action that sunk these vessels, lots of ammunition and machinery in the holds, as well as dishes, bottles and other evidence of ship board activities.
Who is this trip for?
This trip is best suited for good intermediate to advanced divers or above with good buoyancy control and a good level of fitness. If something happens you are a LONG ways from home or help. Most all dives will be multi-level with the dive sites are to be determined by "BEST CONDITIONS" based on where we are at the given time. Surface signal tubes are always recommended and dive evacuation insurance is mandatory! 
Trip Insurance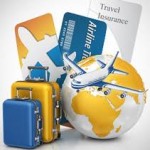 Channel Islands Dive Adventures urges you to consider purchasing travel insurance for your trip. In order to maintain our reasonable rate & high level of service, we do not automatically insure your trip against the adverse effects of weather or other factors that are beyond our control. Your vacation represents a very large investment, and unforeseen circumstances such as injury or sickness, airline issues, and family emergencies can easily affect your ability to travel. Get all the info needed to sign-up for DAN or DiveAssure here!
Questions-Please contact Ken at (805) 469-7288 or
email at info@channelislandsdiveadventures.com