Paradise Dive Club Information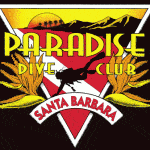 The Paradise dive club (PDC) is a social club whose members are divers with all ranges of experience. They focus on growing the sport of scuba diving and developing new friendships. PDC promotes fun, safe, exciting activities including underwater photography and environmental awareness. 
The Paradise dive club was founded to provide social and recreational opportunities to people with mutual interests in SCUBA and skin diving, and to educate and inform its members and the general public in matters relating to diving, particularly in regard to issues involving coastal Santa Barbara County. PDC has been going for many years and is an independent dive club, sponsored by several Santa Barbara based dive businesses.
 Join the Paradise dive club at their next monthly meeting for fun, entertainment, raffle and a guest speaker. They meet the last Tuesday of each month unless there is a holiday conflict. Please see their website for current meeting location. Social Hour starts at 6:30, Meeting and entertainment at 7:00.  
For details on becoming a member of the Paradise dive club please check their website.
Join the Paradise now and meet new divers, make new friends, have fun & enjoy life!