Diving Santa Cruz Island can be a very exciting experience because there are just so many dive sites to visit. For this trip we will probably be concentrating more on the west end if the weather allows us. With the west end being more exposed to the weather the dive sites are more dramatic than some of the other areas of Santa Cruz. Join Channel Islands Dive Adventures has aboard the Truth with our friends at Ocean Safaris for a single day trip to Santa Cruz Island on Saturday, Sept. 1, 2018.
The plan is to board between 8:00-12:00 pm on Friday, August 31st with us departing at 4:00 am. Captain Davey and crew always do their best to get us to the best dive sites possible.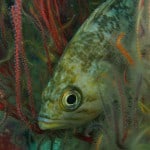 There are some excellent dives sites at the West end of Santa Cruz Island such as West Point, Fraser Cove and Forney's Cove along with some deeper outer pinnacles. From these sites it is a short distance to Gull Island on the back side and Painted Cave (the largest sea cave in the world!) on the front side.  West Point, Fraser Cove and Forney's Cove have some excellent reef structure with lush kelp, fish and other marine life and depths of about 20'-60' deep. There can also some excellent scallop hunting (due to the currents) around Santa Cruz Island. The west end dive sites have something for everyone and are good for the photographer, sightseer or hunter.
This trip is best suited for Experienced OW divers and above that have experience in cold water conditions including; current, swell and possible limited visibility. Most importantly, good buoyancy control is needed and surface signal tubes are always recommended.
Trip Details
Where: Santa Cruz Island
Depart from: Sea Landing, Santa Barbara
When: Saturday, Sept. 1, 2018
Time: Board 8:00-midnight on Friday, Aug. 31st , depart at 4:00 am and back Saturday at 6:00 pm
Cost: $160.00 includes 3 dives, meals & air
Pay Online–click here to pay
The Truth is the original Truth Aquatics boat, and thanks to regular updates and maintenance it remains a world-class liveaboard diving and excursion vessel. It is an ideal entry level boat for smaller charters and groups of friends. The versatile Truth is equally at home running to San Miguel for spear fishing excursions as it is spending lazy days with kayakers at Painted Cave, doing photo trips to the rigs down south as well as some specialty trips diving wrecks such as the ones Channel Islands Dive Adventures plans to do aboard the Truth.
The Truth was built in Venice, California and launched in 1974. She is 65'x 22′ and with a cruising speed of 10 knots and 550 nautical mile range she is ready to go anywhere in SoCal. She is powered by two Detroit diesels and has two generato
rs to supply everyone with plenty of power. The Truth was built for comfort and has a large galley fully ready to make meals for the hearty divers that like to call her home on dive trips to the Channel Islands and beyond. There is also a BBQ for cooking tri tip and chicken for multi-day trips and a good sized sundeck built above the galley. There are also 2 heads and 3 showers (1 on deck, 2 below deck) and a 1050 gallon fresh water capacity.
The dive deck is spacious and has seating for you and your gear as well as room for some of the bags underneath the bench seats and there is always room along the sides for more bags. The Stern Compartment is used for a drying room for wetsuits, game freezing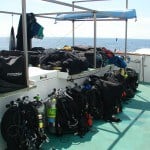 g and it is where the clothes dryer is. If you are a hunter there is also live game wells built in the transom for game storage. For filling tanks there are 2 Ingersoll-Rand air compressors aboard capable of filling to 3500 P.S.I. and no nitrox. For safety they have a full first aid kit, O2 bottles, Auto Defibrillator, Certified Crew and a 16-foot Caribe chase boat with 40 HP Honda 4-stroke outboard.
For the bunk room there is room  for 45 people maximum consisting of 12 double bunks and 20 single bunks. See bunk room layout here. Each bunk has pillows, blankets, curtains, and reading lights and there is also a dressing room located in the bunk room. The bunks are a good size with plenty of headroom to make you feel more at home rather than being squashed into a small space. If you would like to be even more comfy a sleeping bag is always recommended.
The Truth is based out of the Sea Landing in Santa Barbara with the Vision and Conception
Gear Rentals: If you need gear rentals you have 2 choices-contact the Truth Aquatics Sea landing or get them through your local dive shop.
Fishing License: Unless you arrive during normal business hours, you will need to ensure you have a valid CA fishing license that covers the duration of our trip, Ocean Enhancement, and if you plan on taking Lobster, a Lobster Report Card. These items will not be available on board.
Parking at the Sea landing in Santa Barbara: There is plenty of parking close to the Truth. It is a paid parking area so you must get your ticket validated in the Sea Landing office before leaving so you can leave with paying only a very minimal fee.
Directions to the Truth in Santa Barbara-
The address is 301 West Cabrillo Boulevard • Santa Barbara, CA 93101 • (805) 962-1127. Check here for directions.
Any trip on the Truth is always fun and Channel Islands Dive Adventures has several single day trips chartered on the Truth. Please check the Channel Islands Dive Adventures boat schedule and come join us on our next dive adventure aboard the Truth!
To sign up and pay for trip or if you have any questions, please contact Ken at
info@channelislandsdiveadventures.com or call 805 469-7288