Diving the Kopco Star kelpcutter and the Spirit of America is a line up you will not want to miss and Channel Islands Dive Adventures is the only place you will find a trip like this. Join us aboard the Peace for a trip diving both wrecks and then some outer reefs on Sunday, August 5, 2018. There aren't many chances for a line up like this so don't miss out!
The plan is to board at 6:00 am Sunday morning (or after 8:00 pm on Saturday) and depart at 7:00 am, doing the 1st dive a short distance out on the Kopco Star, (if weather permits) an old kelpcutter,  52' X 27' in size that sunk in October of 1963 at a depth of 80'. Afterwards we will probably do an outer reef off Anacapa working our way to the Spirit of America (Peacock) and finishing up at another reef off Santa Cruz.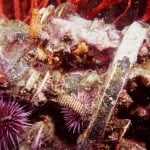 The Spirit of America (if that is what her real name is) had a lot of mystery around her. It was known that the wreck was a WWII Minesweeper that sunk in the 70's. The Spirit of America sits upright on a sandy bottom at about 65'deep outside the Scorpion Anchorage, Santa Cruz Island. Visibility here can be 15'-40'. With the hull and its structure to explore the Spirit of America is a very good dive. It is in a protected area and there are lots of fish and the biggest Spanish Shawls on her.
For this trip we will have Zac Araneta aboard for anyone who would like FREE photo & video help along with tips and to answer any questions you might have
Zac is a PADI Master Instructor and PADI Elite Instructor. He has been diving for over 20 years, certifying thousands, and has over a year of bottom time from various sites around the world. Zac works at Samy's Camera in Culver City as an underwater specialist while teaching Scuba during weekends. He shoots to grow his passion for photography and to protect the environment. Zac started his interest in photography when he was asked to complete a project in grade school to make a pin-hole camera box.  He took pictures, developed them in the classroom and shortly thereafter borrowed his first film camera from one of his friend's fathers. Soon afterwards his interest in photography quickly grew into a passion and now shoots sports and underwater photography.
This trip is best suited for Advanced divers and above that have experience in cold water conditions including possible current, swell, limited visibility and deep water. The wreck visited is unique and interesting and inherently has more hazards and may not necessarily have the best dive conditions. Most importantly, good buoyancy control is needed and surface signal tubes are always recommended.
Trip Details
Where: Wrecks & Reefs
When: Sunday, August 5, 2018.
Time: Board at 6:00 am Sunday (or after 8:00 pm on Saturday) with the Peace departing at 7:00 am, the approx. time back to the dock is 6:00 pm.
Cost: $150.00 and  includes, 3 dives, food, snacks, drinks & air and reserved bunk-see bunk list-Limited to 26 divers
Pay Online–click here to pay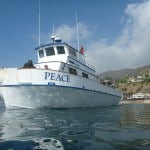 The Peace is widely known as a first class dive boat ideal for single and multi-day trips to the Channel Islands and beyond. The Captain and crew are all dive-masters and DAN oxygen providers. The safety of the passengers is of utmost importance to them and at the same time they are happy to get you to the best possible dive sites that they can.
The Peace is 65'x 22' and has single and double bunks that sleep 32. All bunks have privacy curtains, lights, pillows and blankets. There are 2 heads with showers along with an outdoor fresh water shower. There is also a clothes dryer if needed.
On the dive deck there is plenty of room for everyone along with a sundeck, live game well for all the hunters, 12' inflatable chase boat, two 18CFM compressors for air and nitrox and the world famous hot tub. The Peace can fill to 3500psi and for nitrox (additional charge) they are equipped with a DNAx membrane system setup for 32% fills. With the membrane system there is no need for O2 clean tanks.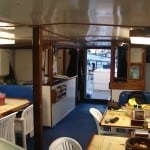 Inside there is a large galley with a TV and VCR player and this is also where all the delicious meals are cooked and served. Meals for a typical day will include a starter breakfast of oatmeal, toast, bagels, fruit, cereal, juice and more. You then can make your first dive and afterwards have a full hot breakfast of eggs, bacon, sausage, potatoes and more. For lunch there is always a big spread with a theme like Italian, Mexican or something else. Save room, because later in the day there is still a homemade desert usually along with ice cream. If you're on a multi-day trip, then there is still a big dinner along with more deserts. Just make sure you dive as much as possible to burn off all the food. For drinks there is a soda machine, ice and there is always water available. If you feel inclined to bring your own alcoholic drinks, that is also OK, just please bring your own cooler and ice to store them in.
All trips on the Peace include food, snacks, drinks & air.
For trips on the Peace you will need to bring all your own gear and 1 tank. Gear rentals are not available through the Peace. If you need gear rentals you will need to arrange that through your local dive shop.
The Peace is in the Ventura Harbor and is located next to Island Packers at 1691 Spinnaker Dr. G – Dock. See  directions here.
To sign up and pay for the trip or if you have any questions, please contact Ken at
info@channelislandsdiveadventures.com or call (805) 469-7288