Catalina
San Clemente
Santa Barbara
San Nicolas
Santa Catalina Island

Catalina Island is 21 miles long and 8 miles wide at the widest point. Its perimeter of 54 miles encompasses approximately 47,884 acres or about 76 square miles. The highest point on the Island is Mt. Orizaba at 2,097 feet. It is 26 miles from Avalon to San Pedro and 21 miles from Arrow Point on Catalina to Point Vicente on the mainland. Catalina is the third largest of the Channel Island group. Catalina Island has a few small communities, such as Two Harbors on the Isthmus, but 2.6 square mile Avalon is the only incorporated city. Catalina has buffalo, bald eagles and mountain goats along its steep canyons and rolling hills. There are lots of fun things to do while on Catalina. Catalina Island is technically in Los Angeles County and is a popular day trip and vacation destination for locals and tourists. Catalina is a world unto itself, a distant asylum from the hustle and bustle of the rest of Southern California. Most of the island is owned by the Catalina Conservancy which is chartered with protecting its environment.
Scuba diving at Santa Catalina Island is a favorite destination for divers of all skill levels. For shore diving, the main dive site is Casino Point at the Marine Park, right next to the Casino building in Avalon. With large kelp beds, a variety of life,
Black Sea bass, bat rays, fish, seals, invertebrate life, rocky reefs, pinnacles and walls, it offers something for everyone. Water temps average in the mid-60s, with lows in the high 50s in winter and topping out in the high 60s in the summer. Visibility is generally 40 to 60 feet in winter and 60 to 90 feet in summer. With such good water clarity, photography and sightseeing are popular activities.

The "front side" is the leeward (sheltered side) of the island and offers some of the best water clarity (30′ to 100'+) and the best diving conditions in Southern California. Currents are generally mild and there's always a calm and clear site to dive. Because of this Catalina Island is the most dove island of all the Channel Islands. The backside of Catalina, is the weather exposed side, and offers some great dive opportunities when you can get there.
One well known dive site on the backside is Farnsworth Bank, two miles off Ben Watson Point. Farnsworth
Bank is a deep offshore pinnacle and because of its exposed location it can be very hard to get to. Farnsworth Bank is mainly known for its abundance of purple hydrocoral. Because of Catalina's size there are many good dive sites such as, Ship Rock, Bird Rock, Blue Caverns, Long Point, Eagle Reef, Italian Gardens, Little Farnsworth, Eagles Nest, Arrow Point and much more.
See video on Farnsworth Banks
San Clemente Island
San Clemente Island is the southernmost of the eight California Channel Islands. It lies 55 nautical miles (nm) south of Long Beach and 68 nm west of San Diego and approximately 25 miles south of Santa Catalina. The island is approximately 21 nm long and is 4-1/2 nm across at its widest point. Since 1934, the island has been owned and operated by various naval commands which offer a safe testing and training environment to ensure Navy personnel are ready to respond to national security challenges. These areas are
the cornerstone of the Navy's tactical training activities in Southern California. More than a dozen range and operational areas are clustered within a 60 mile radius of the island. The Commander-in-Chief, Naval Forces, Pacific (CINCPACFLT) is the major claimant for the island, and Naval Air Station, North Island (NASNI) is responsible for its administration. Most areas around the island are accessible to the public for commercial and recreational purposes such as diving and sport fishing. Except in exclusive use or restricted areas, public access is allowed in other areas during periods when they are not being used for military training activities.
Scuba diving at San Clemente Island can be very rewarding and is good for all level divers. The coves around the island are visited by divers attracted by the abundant sea life, including sea lions, lobsters, hydrocoral, kelp forests and the big bull calicos. The "lee" of Clemente is home to consistently good water clarity, usually better than that found at Catalina. Typical visibility is 60′ – 80'+ and water temperature is usually warmer like that of Catalina Island. San Clemente is extremely diverse with its steep walls, large rocky reefs, underwater caverns,
large rock outcroppings, isolated deep water reef systems and pinnacles. San Clemente has an abundance of marine life such as large kelp beds, seals, bat rays, big fish, and lots of invertebrates, lobster, purple coral colonies and so much more. There is so much to see and do underwater at San Clemente Island that even after diving several days there you will still have lots more to see. When the weather conditions are good and you can dive the south windward side of San Clemente Island, the diving becomes limitless. Because of the good water clarity and abundant marine life, San Clemente is perfect for photographers and it is equally as good for the hunter or sightseer.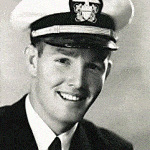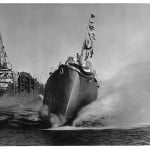 San Clemente is also home to quite a few wrecks with the best being the John C. Butler, (Click here for information provided by John C. Butler's family) a naval destroyer sitting on a 80′ sandy bottom in Northwest harbor. Because of its size, San Clemente has many good dive sites. Some of them are Window Pane, Fish Hook, The Boilers, China Point, Nine Fathoms, Little Flower, Northwest Harbor, Octopus Gardens, LCI Reef, Ordinance Reef, The Caverns, Castle Rock, the wreck of the Koka and much more.
Santa Barbara Island
Santa Barbara Island became one of five islands included in Channel Islands National Park in 1980 and is only 38 miles from San Pedro or 55 miles from Ventura County. It is the smallest of the California Channel Islands, only one square mile in size and even though it is small it has many things to offer, both above and below the water. Santa Barbara Island was formed by underwater volcanic activity and is roughly triangular in outline and emerges from the ocean as a giant, twin-peaked mesa with steep cliffs.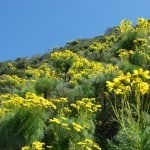 The island can look quite barren at times, but changes with the seasons. The best time is the spring when the strange looking plant, the coreopsis, blossoms with bright yellow flowers. After the flowers die the coreopsis goes dormant and looks as though its dead waiting for another spring time to turn the hills into a beautiful sight. Other plants, like the endemic Santa Barbara Island live-forever, shrubby buckwheat, chickory, and cream cups, add touches of color to the island's palette. For those that would like to get up close and personal with Santa Barbara Island, there are hiking trails and camping to really see the island. Another excellent way to see the island is by boat while you are diving with the seals or just cruising through a beautiful kelp forest.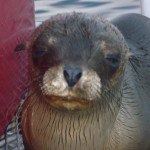 The rocky shores of Santa Barbara Island also provide resting and breeding areas for California sea lions, harbor seals and northern elephant seals. These marine mammals feed in the rich kelp forests surrounding the island. The raucous barking of the sea lions can be heard from most areas of the island. Overlooks, such as the Sea Lion Rookery, Webster Point, and Elephant Seal Cove, provide excellent spots to look down on seals and sea lions. Diving is also another fun past time as is snorkeling in the Landing Cove. Divers, kayakers and snorkelers can see bright sea stars, spiny sea urchins, and brilliant orange garibaldi fish. California sea lions and occasional harbor seals frequent the landing cove waters, and the surrounding rocky ledges.
Scuba diving at Santa Barbara Island is always a treat and the main reason most divers like to go there is because of the seals and sea lions at the Rookery, off the island's southeast side. They can be fun to watch spinning and twirling just like acrobats. They will also swim at you and then turn at the last possible moment as they blow bubbles at you. Then between Webster (the island's westernmost area) and Arch Points (its northernmost area) is Elephant Seal Cove where you can almost always see sea lions. At the southwest side of Santa Barbara is Sutil Island which is basically a 300 feet high rock.
There are many excellent dive sites around Santa Barbara Island for divers of any level whether you are on a single day or multi-day trip. Santa Barbara Island has some very beautiful reefs lush with kelp and underwater arches. Some of the great dive sites are Arch Reef where you will find purple hydrocoral, Sutil Pass (20'-70' deep) for its kelp forests and bat rays during the summer, Shag Rock (30'-70' deep) with its rocky reefs that are great for hunters looking for halibut, fish or lobsters and Black Caverns (60'-100' deep) which is favorite advanced
dive site for its caves and caverns with plenty of room between the floor and the ceiling. You can also see sea fans, gorgonians and colorful sponges, then there's always the anchorage and its kelp forest when on a multi-day trip.
Diving Santa Barbara Island is excellent for the photographer and sightseer and with its lush kelp beds the island is a good location for spear fisherman. Calico bass, white sea bass, yellowtail, and an occasional tuna are among the types of game
fish that can be found in the waters surrounding the island. As with all Channel Islands, lobster divers make this a prime destination during bug season.
You can dive the island year round but if conditions are rough there are not many areas to seek shelter. Because of its small size, ocean swells can wrap around the island, so planning a trip is weather dependant. The best time is in the late summer to fall months. Visibility here can be anywhere from 20'-80' but generally it is more in the 40' plus range and water temperature can be between low 50's to mid 60's.
San Nicolas Island
San Nicolas Island is the most northwesterly of the four southern Channel Islands. San Nicolas is one of the smallest of the eight Channel Islands, larger only than Santa Barbara and Anacapa Islands. Like its eastern neighbor San Clemente Island, San Nicolas is a US Navy owned and operated island. Located 65 nautical miles southwest of the Point Mugu complex, San Nicolas Island is the cornerstone in the Sea Range capabilities. The waters surrounding the island are split into three zones that are controlled by the Navy. Because of its instrumentation, isolated environment, shoreline characteristics, San Nicolas Island is ideal for conducting test and training exercises. Because of its isolated environment and shoreline characteristics, San Nicolas Island is ideal for providing littoral warfare training, including tri-service and theater warfare exercises. It is also an excellent environment for conducting classified operations. Although the island is officially uninhabited as of the 2000 U.S. Census, it is estimated that the number of military and civilian personnel on the island numbers at least 200 at any given time. The island has a small airport and several buildings, including telemetry reception antennas.
Scuba diving at San Nicolas Island is more for the advanced diver looking for an adventure hunting the legendary "Bull lobsters of San Nick". Because of its hostile and productive dive environment, it has become legendary among California divers. The weather and remoteness of San Nicolas makes it much harder to get to then the other islands. The
diving is usually done on the north and west sides of the island while the eastern side is generally off limits. San Nicolas has thick forests of giant kelp around the entire island, attracting marine mammals, fish and invertebrates. A diverse mixture of northern cold-water and southern warm-water fish intermingle in the island waters. Sea fans, stars and anemones and sea lions, harbor seals, elephant seals and lobster are abundant at San Nicolas Island.
There is good diving almost any where around San Nicolas. One favorite is Begg Rock, eight miles northwest of San Nicolas and directly exposed to weather from all directions, because of this Begg Rock is for the experienced diver only. Begg Rock rises 300 feet from the ocean floor to the surface and is carpeted with invertebrate life and big fish. There are many other good dive sites like, The Boilers, Three Mile Reef, The Alpha area, Dutch harbor and more.